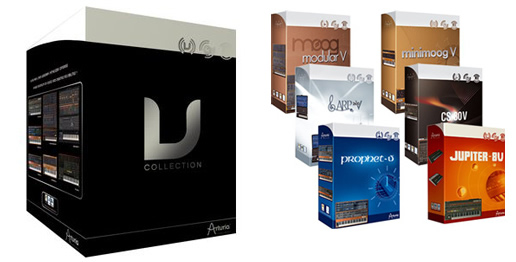 The V2 Collection brings you the most legendary and sought after synthesizers ever in one very affordable package. This ultimate edition is the complete solution when high quality, authentic and modern synthesizer sounds are demanded. The luxury box contains the highly awarded Minimoog V, Moog Modular V, CS-80V, ARP2600 V, Prophet V and Prophet VS. On top of that we have added the brand new Jupiter-8V to make the package even more complete.
With this collection of synthesizers you will be able to create virtually every imaginable synthesizer sound with the true characteristics of their very rare and expensive predecessors. The V2 Collection is available at an irresistible price...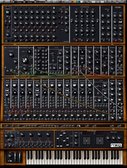 Whether recreating the abstract tonal qualities of the classic electronic soundtracks, or pushing forward the sonic boundaries of today, the Moog Modular V is the synth of choice for sound exploration, anywhere, anytime.
With its very raw and dirty character it is easy to create massive drum n' bass stabs to growlin funky bass lines and spaced out drones. The ARP2600 V is a truly versatile sound creation tool with a bite.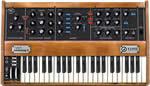 When a punchy fat sound is demanded the search no further. Whether emanating from the beat boxes of 80's New York or from the electro dub club sound systems of now, the sound of the Prophet V keeps it moving.
From the starship funk lead lines of the 70's, to the gangster whine of mid 90's hip-hop, the ever present Minimoog has been making its phat presence felt for over 3 decades. The highly awarded Minimoog V is now even polyphonic and has extra modulation options making it a Memorymoog emulation as well.
With its ground breaking design and earth shattering sounds, this massive sounding synth has featured on poles apart recordings from the good times of soul of Stevie Wonder to the electronic tension of the Blade Runner soundtrack. We do highly recommend the CS-80V for pads and string sounds.
The Prophet VS brings you a unique crisp digital sound that easily stands on its own, but at the same time is complimentary to the sound of pure analog synthesizers. It brings the clear sound of four digital oscillators and a nice creamy warm filter.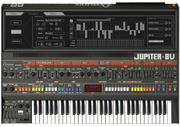 The Jupiter-8's success, initiated in 1981, took every one by storm. In terms of sonic possibilities, it complemented its competition by bringing something different. The Jupiter-8V is a real workhorse capable of creating very versatile sounds. You could easily make 'fat' or 'Crystal' sounds with it. With the new modulation possibilities and effects within the synthesizer path it goes far beyond the original.
Mixing tradition and innovation:

Using analog synthesizers brings a warm lively sound to any music production. The vintage analog synthesizers were very innovative at their time. But obviously there are technologies today that did not exist back then. For instance it is impossible to play a chord on a Mini Moog or on an ARP 2600. In most cases there is no MIDI available and saving sound setting is not possible or very limited.
The synthesizers you will find in the V-Collection will not only bring you the authentic analog sound recreations, they all offer full MIDI control, convenient preset management, effects and polyphony while also offering innovative features opening new creative possibilities. Another great advantage is that you can use multiple instances of every synthesizer in your studio environment, giving the possibility to use, for example three CS-80 V's and two ARP 2600 V's at the same time.
Additional features:

Alongside the Delay and Chorus effects, that are available for all the synthesizers in the V Collection, innovative features are added to each of them, opening a large window on the future. For instance a modulation matrix with up to 6 connections (12 sources and 32 destinations) and a new LFO are available in the Minimoog V. In fact this makes it a futuristic Memorymoog emulation as well. We added 4 revolutionary tracking generators and an original ARP Sequencer model 1601 to the ARP2600 V, enabling ever evolving and traveling sounds. A set of Analog Sounding Effects such as EQ, Phaser and Flanger that can be modulated by any audio source in the synthesizer were added to the Jupiter-8V. Adding a live-oriented Step-sequencer and the Galaxy module for advanced modulations to this synth is another example of how we bring new sonic possibilities to the table.