Elektron Hardware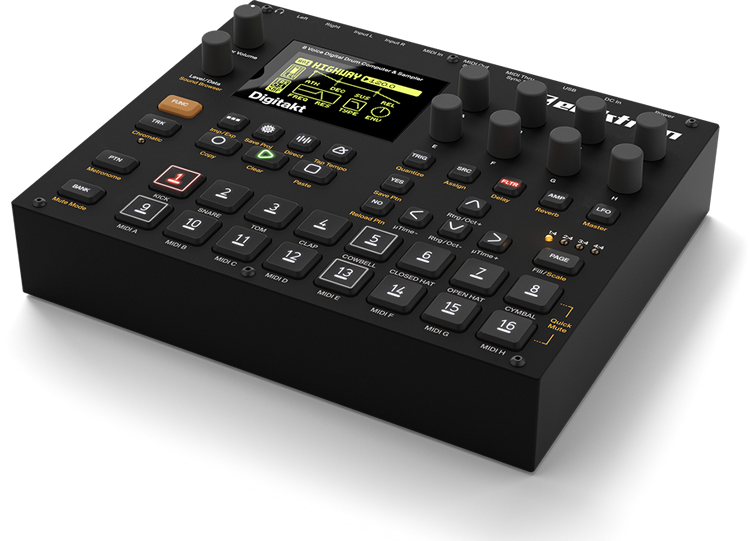 Beat making powerhouse
Compact, rugged and to the point. Digitakt is a formidable drum machine. With an astounding feature set and an exquisite digital sound engine, the stage is set for a striking encounter.
Rhythm is a fundamental part of music. Off-kilter beats, four on the floor workouts, polyrhythmic excursions all serve the same purpose. They provide musical structure and sometimes they even make us dance.
Digitakt is a new compact drum machine from Elektron. It contains all the necessary tools to make people move to the beat. A digital and highly flexible sound engine, sampling capability, a live-friendly sequencer, the means to control external MIDI gear. Round it off with a super crisp OLED screen and wonderfully tactile back-lit buttons. Done deal.
Drum machines are something of an Elektron speciality. With the Digitakt we show why.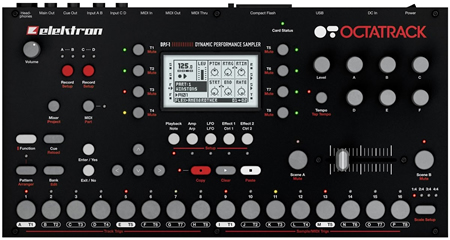 Octatrack is designed to revolutionize the concept of sampling. Never before has so much potential been offered by just one machine.
The Octatrack is an 8 track performance sampler. Recording of sounds is a breeze thanks to the intuitive user interface, but the fun really starts once the samples are inside the machine. All audio content can be heavily processed and radically transformed. Loops do not have to be restricted by tempo or tone and can always stay in sync no matter if they are pitch shifted or if the tempo of the sequencer is changed. The inflexible nature of samples is finally a thing of the past.
Instant Sampling & Remixing
Radical Audio Manipulation Possibilities
Real-time Pitch Scaling and Time Stretch
Next Generation Elektron Step Sequencer
Dual Assignable FX Per Track
Assignable Multi-Parameter Crossfader