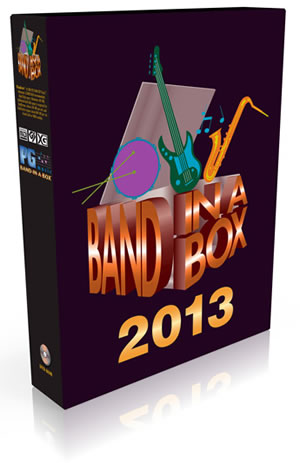 Band-in-a-Box Audiophile Edition with RealBand
The Audiophile version includes:
Band-in-a-Box 2013
RealBand 2013
RealTracks Sets 1-187: WAV files for all available RealTracks, Over 1000 instruments total!
RealDrum Sets 1-29: WAV files for all available RealDrums, over 250 main drum styles plus hundreds of variations!
MIDI Styles Sets 0-77: All MIDI Styles Sets, over 1500 MIDI styles total
MIDI Soloist Sets 1-13 & 16-20: Over 300 Soloists, including the Andy Laverne 'Artist Soloist' series
MIDI Melodist Sets 1-8: Over 200 MIDI Melodists
Loops Set 1: Nature Sounds and Percussion Loops
MIDI SuperTracks Sets 1-9: All MIDI SuperTracks, 96 MIDI styles total
Artist Performance Sets 1-3
Band-in-a-Box Video Tutorial PAK
Band-in-a-Box MIDI Songs & Lessons PAK: 25 MIDI add-ons for Band-in-a-Box, including the Essential Riffs and Phrases Series, Fakebooks, complete Master Solos Series, CopyMe, Duets, Novelty Piano Riffs, Country Guitar Solos, and Folk Songs
Ships preinstalled and ready to use on a 750GB hard drive.