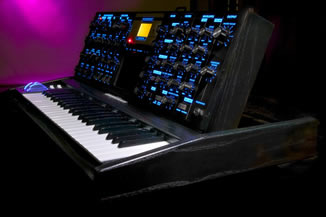 "The Voyager is the only synth I use on stage... We used the Moog filters a lot – for instance we fed a digital piano through the Voyager and used the filter section, or we'd put a guitar through it. You can hear it on the single Ulysses – there's a guitar in the choruses, and when it hits this high chord, it's filtered through the Moog."
Nick McCarthy, Franz Ferdinand
It's the Voyager with all the sonic quality one would expect plus a finish that rivals its sound.
Played by the likes of Jesse Carmichael of Maroon5 and Printz Board of the Black Eyed Peas. The Electric Blue Voyager is housed in a fractal blue solid ash cabinet. At first it looks black but as one draws near the fractal blue flecks pop out in an eye catching display. Combine this with the stunning look of the electric blue back lit panel, new blue LED's, and some new killer patches and you have an instrument you will be proud to play for a lifetime.
Now, all Electric Blues will have the upgraded software and hardware to allow the player 7 banks of 128 presets and the following capabilities:
The External Mixer knob (just right of the display panel) has a dual function that allows you to rapidly change presets as opposed to continuously punching the cursor buttons.
Other Enhancements:
Allows you to send either 7 or 14 bit resolution from the Mod Wheel
Optionally reduces the amount of MIDI data being sent from the Touch Surface (These changes enable the Voyager to work better with older MIDI equipment)
Transpose the entire keyboard by 2 octaves up or down