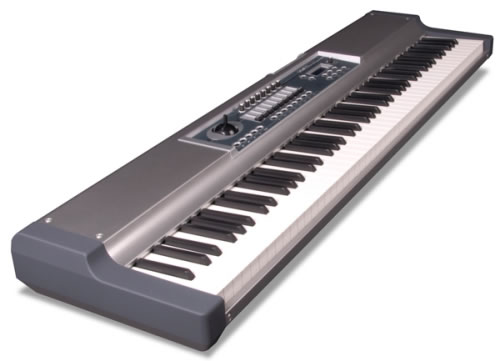 We have incorporated everything you would need in a studio or live situation into the VMK 188 plus. A full size 88 piano keyboard with one of the best graded hammer action keys on the market for a true piano-like feeling combined with our powerful Master Keyboard functions. Free assignable sliders, knobs and faders leave you in control of your life and/or studio setup. Once integrated you would never be able to live without the VMK 188 plus.
The VMK-188 Plus offers a unique and versatile environment controller enabling you to really connect with your music. Whether live or in the studio, the VMK 188 Plus provides all the tactile controllers that you will ever need. The VMK-188 Plus offers 30 Preset locations and comes pre programmed with a huge collection of presets for some of the most well known software applications on both MAC and PC platforms. So turn on the VMK and connect it to your computer, sound module or synthesizer, and you are ready to enter a whole new dimension in personal music experience.
The VMK-188 Plus provides the world famous full-size 88 key TP40GH with graded hammer action keys that give you a true piano-like feeling. No other keyboard has ever achieved this level of popularity and quality – just touch it, feel it and you will love it!
The VMK 188 Plus provides an extensive amount of controllers. It gives you total control over all the parameters that you can imagine: 8 knobs, 9 sliders, 8 buttons and 5 Sequencer section buttons, all of which are completely programmable. In addition, a data entry dial and modulation/pitch joystick offer even further opportunity for personal expression and enjoyment.
The LCD Display is the control center monitor where all date entries can be seen in real time. Whatever you edit or change, can then be seen directly in the brightly illuminated display, constantly providing complete information about all current parameters. Very simple to understand and with easy access to all features, the control center is the nerve hub of your production.
In addition, there are many further features on the hardware side such as multiple pedal inputs and MIDI connectors for your existing instruments. All packed in a very stable but lightweight casing.
Technical specifications:
88 keys - TP40GH keybed witt graded hammer action keys for a true piano-like feel
Velocity and aftertouch sensitive
Preset locations: 30
Included presets: Apple Logic/EVP88, General MIDI, IK Sample Tank, MOTU Mach 5, Propellerhead Reason, Spectrasonics Atmosphere, Steinberg Cubase, Synthology Ivory and Native Instruments Absynth B4, Elektrick Piano FM7, and Pro-53
MIDI Connectors: Out, USB
Pedal Inputs: 3 footswitch/continuous controller (all programmable)
Power supply External 9 volts DC or over USB
LCD Display
Data Entry Dial
Pitch and Mod joystick
8 Programmable knobs
9 Programmable sliders
8 Programmable buttons
5 Programmable Sequencer Buttons section
Dimensions: in. 52.3 x 13.8 x 4.8 (cm 132,8 x 35 x 12,2)
Weight: lb. 46 (Kg. 21)