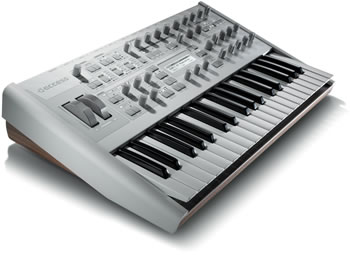 The Virus TI2 Polar Keyboard synthesizer is built for the road, a compact synth with 37 keys makes it a true contender for traveling electronic enthusiasts. The TI2 provides 25% higher calculating power and a redesigned housing and front panel. Access TI2 also has used lighter materials to bring down the weight of the keyboard synth to make it easier to take along on gigs or anywhere you may need some electonic audio to give you peace of mind. On the software side of things, a major feature update, OS4, will be available by the time you read this. The new operating system adds several new FX such as a Tape Delay, Frequency Shifter and several new Distortion algorithms along with a new feature called Character.
Character allows you to adjust the overall tone of a preset reminiscent of several vintage and well-known synthesizers. In addition you can emphasis certain aspects of the patch to allow it to cut better through the mix, or fade it into the background with an extra-wide stereo field. The new distortions were built from scratch and feature an extreme dynamic range along with sophisticated controls to tailor the sound to your specific needs. They can add everything from warm, tube-like overtones to complete sonic deconstruction more reminiscent of circuit-bending. The new algorithms also include a revamped bit and sampling-rate reduction, allowing you to change the quality and cutoff point with precise, continuously variable control.
The stereo Frequency Shifter and the new Ring Modulator are state of the art algorithms modelled with old '70s stomp boxes in mind.
The Tape Delay goes way beyond the possibilities of the real Tape Delays in the '60s and '70s. It smoothly syncs to tempo, lets you decide if a Doppler effect takes place when changing the tempo, and even switching the delay time between presets is all smooth, making it perfect for performers. Last but not least, a modification to the main VCA algorithm enables OS4 users to design gating FX known from electro and minimal influenced music.
Virus Control has received a completely redesigned user-interface thanks to various improvement requests over the last years. The plug-in now features a side chain input allowing you to mangle audio from a sequencer track with the FX and sound engine of the hardware Virus (for selected hosts only).
The best news, however, is that OS4 is compatible with all legacy Virus TIs and the Virus TI Snow, thus enabling Access' vast user base to update their existing instruments with all the new software features totally free of charge.
Virus TI2 Polar has 37 keys (synth action) with alloy and wooden side panels.
OS4
OS4 for the entire Virus TI line of synthesizers brings 6 more distortion flavors to the table, modeled on vintage guitar distortion pedals. Every one of these classic pedals is famous for its distinctive character and has been exploited by some of the greatest guitar heroes of all time. The virtual stomp boxes feature carefully modeled distortion curves and tonal characteristics and include tone controls where appropriate.
Mint Overdrive - The sound of this one just screams tubes - a very special kind of overdrive which results in a wonderful smokey tone. Good for achieving a subtle distortion effect whilst still retaining headroom for dynamics.
Curry Overdrive - A more extreme distortion, like in the original, this does not feature a Tone control.
Saffron Overdrive - The orange one. A very harsh distortion, popular with the grunge movement.
Onion Overdrive - A big distortion effect famous for its fuzzy character.
Pepper Overdrive - A clear, powerful distortion thats perfect for making leads cut right through the mix. Tone control to soften sound with a lowpass filter.
Chili Overdrive - A classic 'fuzzbox' overdrive. No tone control, just in-your-face fuzz.
Vowel Filter
This effect is a simple and effective way to vocalize any sound similar to the way a talk box or vocoder would do.
Comb Filter
The new comb filter creates everything from subtle, pitched overtones to extreme time-warped deconstruction of any given patch.
Arpeggiator To Matrix
OS4 for the Virus TI series introduces a powerful new feature that allows you use the arpeggiator pattern to modulate any of the parameters available to the modulation matrix. You can use this to create dynamic, rhythmical patterns within a sound, similar to what you can achieve with a step sequencer.