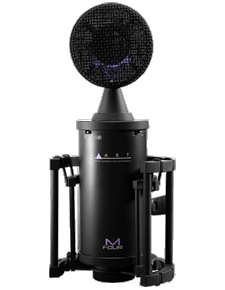 The ART M-Four tube condenser microphone is perfect for recording both critical vocals and essential instruments. The dual diaphragm multi-pattern tube design delivers nine different polar pattern settings allowing unmatched versatility, making the M-Four ideal for virtually every recording application.
The microphone's chassis is precision-tooled zinc/aluminum alloy with a dent resistant stainless-steel wire-mesh windscreen protects the dual gold sputtered diaphragms and integrated 12AX7 vacuum tube pre-amp. An external heavy-duty cradle mount suspension virtually eliminates vibration and handling noise.
Low Noise External Power Supply
The ART M-Four has nine available polar patterns, selectable from the front panel of the external power supply unit. Rather than limiting the user to only the three most common patterns (omnidirectional, cardioid, and figure-8 patterns), the ART M-Four has three gradient stages between each of those positions allowing the artist and recording engineer a wider tone pallet. For example, in vocal applications where an omnidirectional pattern isn't quite 'fat' enough, but cardioid is too narrow, you now have three additional steps to find the right subtle mix between those two standard patterns. With the ART M-Four you have the rare opportunity to use the proximity effect of a cardioid, yet still open up the microphone to hear some of the natural early reflections of a good sounding live room.
The included heavy-duty cradle-mount suspension virtually eliminates vibration and handling noise, while at the same time safely securing the microphone in any position needed during the recording process.
Features
Upgraded High Performance Gold Sputtered Dual Diaphragm Capsule
9 User Selectable Polar Patterns (Including Omnidirectional, Cardioid and Figure-8 Positions)
-10dB Pad Switch and Low Frequency Roll-off Switch on Mic Body
Discrete Low Self-Noise Tube Circuit Design
Low Noise Constant Voltage External Power Supply
7-pin XLR Cable Included
Heavy-Duty Cradle Shockmount Mount for Increased Stability & Isolation
Microphone in Protective Fitted Microphone Box
Aluminum Carrying Case
Specifications:
Type: Multi-pattern Tube Condenser Microphone
Capsule: 1.35mm Gold Sputtered Dual Diaphragm
Polar Pattern: Omnidirectional, Cardioid, Figure-8 with 6 Gradient Stages (Nine Total
Frequency Response: 20Hz to 20kHz
Max SPL: 134dB
Sensitivity: 12mv/Pa = 2dB (0dB=1v/Pa 1000Hz)
S/N Ratio: 70dB @ 1Pa
Impedance: <200 Ohm
Equivalent Noise Level: 20dB (IEC268-4 A Weight)
Power Requirement: Dedicated Power Supply
Included Accessories:
Heavy Duty Cradle Mount, 7-pin XLR Cable, Padded Wood Microphone Case, Aluminum Carrying Case (houses microphone & case, power supply, shockmount & cables)
Microphones Series Overview
Created to complement ART's industry leading brand of tube preamps, tube compressors and recording accessories, the ART M-Series will set the performance standard for professional microphones in this class and price category.
Created specifically for professional, project and high-end home studio environments, M-Series microphones deliver superior sound and build quality, clarity and an unrivalled tone. Three all new innovative wide diaphragm side address FET microphones and one compact format large diaphragm classic ribbon microphone make up the M-Series line.