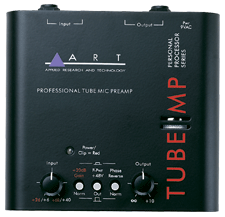 The Tube MP is the world's most popular external tube microphone preamp. Whether you're working with a digital, computer or analog recording system, the Tube MP's TEC award nominated design will allow you to obtain professional recording studio results at a fraction of the cost of comparable equipment. The hybrid design of the Tube MP allows it to add warmth and fatness to a signal while maintaining exceptionally low-noise and high quality. While its primary application is to be used with a microphone, the Tube MP is an exceptional direct box - impedance matching, amplifying and improving the sound of any instrument plugged into it.
The usage of external mic/line preamps has become increasingly popular over the past several years. The Tube MP offers superior performance and sound quality to the "on-board" preamps found in today's low-cost mixers and multi-trackers. It's sound has been consistently favored over other products costing upwards to ten-times its price. Professional quality sound combined with professional features like: a hand-selected 12AX7a tube, phantom power and phase reverse are what have made the Tube MP a staple in thousands of studios worldwide. For a minimal investment, a Tube MP can provide the single largest improvement to the sound of your studio.
Features
Provides Superior Preamplification for: Microphones, Instruments and Line Level Sources
Hand Selected 12AX7a Provides 70dB of Gain Smooth, Warm and Fat Sound Quality
Variable Input and Output Gain Controls
Excellent as a Tube DI
XLR and 1/4" Inputs and Outputs +48 volts
Phantom Power
Phase Reversal Switch
Superior Sonic Performance to On-Board Preamps
TEC-Award Nominated Design
Portable, All Steel Construction
1 Year Warranty
Specifications
CMMR >75dB (typ @1kHz)
Dimensions 5.0"D x 5.5"W x 2.0"H
Dynamic Range >100dB (20Hz to 20kHz)
Equivalent Input Noise -129dBu ('A' weighted XLR to XLR)
Frequency Response 10Hz to 20kHz (+0,-1dB)
Input Impedance 2k ohms (XLR), 840K ohms (1/4")
Maximum Gain 70dB (XLR to XLR typical)
Maximum Input Level +14dBu (XLR), +22dBu (1/4")
Maximum Output Level +28dBu (XLR), +22dBu (1/4")
Output Impedance 600 ohms (XLR), 300 ohms (1/4")
Power Requirements 9 VAC @ 700ma (typ)
Total Harmonic Distortion <0.1% (typical)
Weight 1.5 lbs
* Specifications subject to change without notice
Tube Mic Preamps Series Overview
Pro Dynamic Processors: The Digital MPA™ Solid Gold. A professional microphone preamplifier is defined by warmth, presence and clarity – core elements that make an audio processor desirable. We've designed a microphone preamplifier that captures all these elements, with an exceptionally affordable price.Introducing the Digital MPA™ by ART. With features like variable input impedance, selectable plate voltage, dual differential Class A inputs, digital outputs and sample rates up to 192kHz, it is truly a modern day classic.
Tube MP: The World's Most Popular External Tube Mic Preamp. Whether you're working with a computer, hard disk or digital multi-track recorder, the Tube MP's TEC award nominated design will allow you to obtain professional results at an affordable price. ART preamps offer warm tone, useful features, and are innovatively designed. Our line of Tube MP products add presence, clarity and fullness to any signal, and is exceptionally low-noise. Our Tube MP Studio V3™ features V3™ Technology (Variable Valve Voicing), which provides optimized reference points to begin the recording process. V3™ delivers a wide variety of settings designed for various microphones and DI inputs, including guitars, basses, keyboards, synths, electronic drums and much more. Don't settle for a copy-cat lookalike. Go with the real thing - the Tube MP by ART!
Dynamic Tube Processors: TPS & DPS Our ART TPS features two channels of award-winning ART microphone preamplification. The DPS has the same preamplifier design, and adds ART's critically acclaimed 24 Bit – 96kHz A/D converter – for warm, vibrant and clean digital audio. As with the TPS, the DPS features our V3™, which delivers a wide range of professional sounding presets designed to seamlessly integrate and enhance every microphone, musical instrument and direct signal you process.