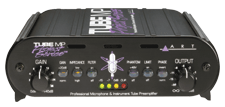 The Tube MP Project Series is a professional quality audio interface that lets you connect microphone, instrument, and line level signals to a mixer or other audio input. This hybrid design is the latest in a long line of ART tube preamps. We took our legendary Tube MP series and updated every aspect of the design, inside and out, while still maintaining a compact, reliable, and cost effective product. From the new all-aluminum stackable chassis to the precision LED level metering circuitry, we have improved virtually every aspect of our already successful Tube MP series. With up to 70dB of clean musical gain and high output signal drive capability the cold digital world will melt with your mixes! Charge up your creativity with the Tube MP Project Series!
Features
Extremely Low Noise Discrete Front End
Up to 70dB of Clean, "Musical" Gain
High Output Signal Drive Capability
Fast FET Limiter to Prevent Overload
Switch Selectable Input Impedance
Precision LED Metering
Built-in Low Noise Phantom Power Supply
Compact, Stackable all Aluminum Chassis
XLR and 1/4" Inputs and Outputs
Phase Invert Switch
High Cut Filter Switch
Variable Input and Output Controls
Specifications
Frequency Response: 10Hz – 40KHz, +/-1 dB (typical)
Dynamic Range: >100dB (20Hz to 20KHz)
THD: <0.05% (typical)
CMRR: >60dB (typical)
EIN: <-130dB (XLR to XLR A-weighted)
Maximum Input Level: +17dBu (1/4"), +16dBu (XLR)
Maximum Output Level: +20dBu (1/4"), +26dBu (XLR)
Input Connections: 1/4" TRS unbalanced (1meg Ohm)
XLR female balanced
Output Connection: 1/4" TRS unbalanced (600 Ohm)
XLR male balanced, (<300 Ohm)
Maximum Gain: 70dB (XLR - XLR), +50dB (1/4"- XLR)
Input Gain Pad: Switchable, 20dB
XLR Input Impedance: Switchable, 4.7k Ohms / 600 Ohms
Low Cut Filter: Switchable, -3dB @ 40Hz
Output Phase: Switchable, Normal/Invert
Output Limiter Type: Switchable, Fast & Musical FET limiter, >20dB limit range
Phantom Power: Switchable, +48V DC, filtered, current limited
Signal Metering: Precise LED array with a fast attack and moderate release
Tube Type: 12AX7A hand selected
Chassis Type: Aluminum Anodized with integral/stackable rubber sides
Power Requirements: 10Volts AC @ 700mA (typical)
Dimensions: 1.75"H x 5.9"W x 6.5"D (44.5mm x 150mm x 165mm)
Weight: 2.5 lbs. (1.14 kg)
Tube Mic Preamps Series Overview
Pro Dynamic Processors: The Digital MPA™ Solid Gold. A professional microphone preamplifier is defined by warmth, presence and clarity – core elements that make an audio processor desirable. We've designed a microphone preamplifier that captures all these elements, with an exceptionally affordable price.Introducing the Digital MPA™ by ART. With features like variable input impedance, selectable plate voltage, dual differential Class A inputs, digital outputs and sample rates up to 192kHz, it is truly a modern day classic.
Tube MP: The World's Most Popular External Tube Mic Preamp. Whether you're working with a computer, hard disk or digital multi-track recorder, the Tube MP's TEC award nominated design will allow you to obtain professional results at an affordable price. ART preamps offer warm tone, useful features, and are innovatively designed. Our line of Tube MP products add presence, clarity and fullness to any signal, and is exceptionally low-noise. Our Tube MP Studio V3™ features V3™ Technology (Variable Valve Voicing), which provides optimized reference points to begin the recording process. V3™ delivers a wide variety of settings designed for various microphones and DI inputs, including guitars, basses, keyboards, synths, electronic drums and much more. Don't settle for a copy-cat lookalike. Go with the real thing - the Tube MP by ART!
Dynamic Tube Processors: TPS & DPS Our ART TPS features two channels of award-winning ART microphone preamplification. The DPS has the same preamplifier design, and adds ART's critically acclaimed 24 Bit – 96kHz A/D converter – for warm, vibrant and clean digital audio. As with the TPS, the DPS features our V3™, which delivers a wide range of professional sounding presets designed to seamlessly integrate and enhance every microphone, musical instrument and direct signal you process.