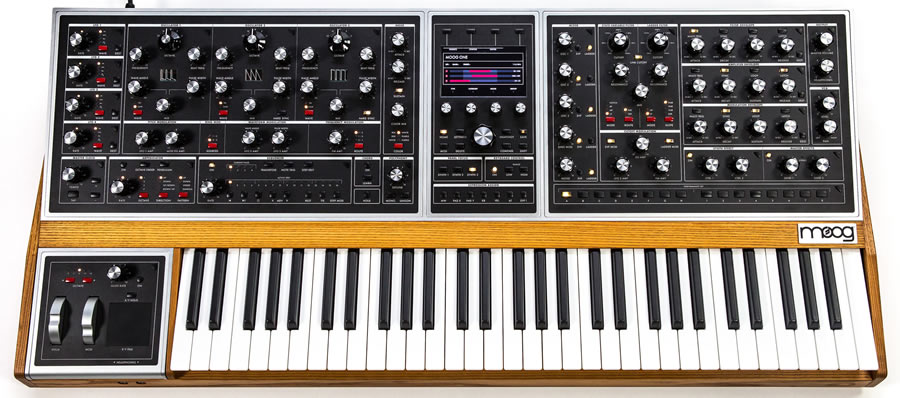 Moog One is a tri-timbral, polyphonic, analog dream-synth with nearly unlimited sonic potential. Bringing the ultimate Moog synthesizer to life has been our most ambitious project to date -- an electronic odyssey encompassing years of research and decades of exploration, culminating in the birth of a new flagship synthesizer: Moog One.
With a topology based in new patent-pending Moog technology, Moog One builds on decades of technological tradition while pushing the limits of what is technically possible. Available in 8-voice or 16-voice configurations, each individual Moog One voice circuit contains an analog signal path more powerful than a Minimoog Voyager, harnessing the power of 3 newly-designed dual-output analog VCOs with ring mod and FM, 2 independent analog filters, a dual source analog noise generator, analog mixer with external audio input, 4 LFOs, and 3 envelope generators. Each of Moog One's three analog timbres is an independently addressable poly synth, each with its own sequencer, arpeggiator, and onboard effects library--including a suite of professional reverbs from Eventide®.
Secured in a hand-finished Ash cabinet and aluminum enclosure, Moog One's front panel is equipped with 73 knobs and 144 buttons, inviting physical connection with every sound shaping and performance control. Extended functionality is easily accessed via a per-module "More" button that brings additional parameters into focus using the Moog One center-panel LCD to ensure the most transparent and expedient sound creation experience possible.
Moog One is an unprecedented conduit for the expression of your own creative voice. Sculpt, shape, and transform your own sound with nearly infinite possibilities.
Features
Triangle Core Oscillators
Each Moog One voice employs three newly developed triangle core analog VCOs. The output of each oscillator is a user-defined mix of the selectable triangle / sawtooth wave, plus a variable-width pulse wave. Expanding beyond traditional oscillator designs, the rise/fall time of the triangle wave and the reset phase of the sawtooth wave can be shaped and modulated to create to a rich palette of classic analog tones. Blending the tri/saw and pulse waves together opens new dimensions of harmonic freedom, creating complex waveforms not typically found in analog synthesizers. The Moog One oscillator section is also equipped with hard sync, analog ring modulation, and FM for boundless analog sound generation.
Dual Source Noise Generator
Each Moog One voice includes an advanced dual-source analog noise generator that allows different colors of noise to be selected and mixed, while and dynamically articulated utilizing the dedicated noise envelope generator. This unique module is a powerful tool for adding percussive attacks, breath, or full-body impact to a sound.
Mixer
Moog One offers a flexible analog mixer, providing volume controls and filter routing selections for each oscillator, noise generator, ring modulator, and external audio input -- sound sources can be shaped by different filters independently, or at the same time.
Ladder And State Variable Filters
There are two types of analog filters in Moog One. The first is a newly-designed multimode State Variable Filter that brings razor-like precision and articulation to the instrument. The second is a classic Moog Ladder filter with selectable low pass / high pass behavior. These two filters can process sounds individually or together, in series or parallel operation, to access a vibrant spectrum of classic, obscure, and completely new filter sounds.
Low Frequency Oscillators
Cyclical motion within Moog One is generated by 4 wide-range LFOs that can be assigned to nearly any destination. Capabilities include MIDI synchronization and clock division, start delay time, number of repeats per instance, fade in and out time, and much more.
Envelopes
Dynamic sound shaping within Moog One comes via its 3 assignable DAHDSR Envelopes (Delay, Attack, Hold, Decay, Sustain, Release). In addition to looping, synchronization, and time scaling capabilities, the character of each envelope can be user-sculpted through utilization of per-stage envelope curves.
Modulation
Easily create modulation assignments from any of Moog One's 4 LFOs and 3 EGs by pressing their corresponding Destination Button -- the next knob touched sets the modulation path and amount. For more complex modulation options, Moog One also employs an internal Modulation Matrix with visual access to every possible combination of the instrument's extensive synthesis and controller components.
Synth Effects, Master Bus effects and Eventide® Reverbs
Moog One features a growing library of programmable per-synth effects and master bus effects that include chorus, delay, phase, bit reduction, vocoding, and a suite of premium reverbs from Eventide® including Blackhole, Shimmer, Plate, Room, and Hall. Effects can be applied in two ways: as Synth Effects and Master Bus Effects. Synth Effects are applied to individual layers of timbrality, while Master Bus Effects can be applied via sends to all three synthesizers. Though its onboard effects are digital, Moog One retains a completely analog signal path with no in-line conversion when insert effects are off.
Tri-Timbrality And Unisn Mode
Comprised of three independently addressable analog polysynths, the tri-timbral Moog One design allows voices to be easily assigned, split, layered, or stacked with up to 48 oscillators in Unison Mode. Additionally, each synthesizer is equipped with its own fully-featured step sequencer, arpeggiator, and effects processor. Multitimbral synthesis is simplified through the Moog One 'Panel Focus' module. Selecting a Synth for Panel Focus causes the Moog One front panel knobs and buttons to switch control to that layer of timbrality. Users can also select multiple layers at once for simultaneous adjustment of multiple synthesizers.
Keyboard And X/Y Pad
Moog One's premium 61-note Fatar TP-8S keyboard with velocity and aftertouch ensures a balanced and dynamic playing experience for any user. In addition, milled aluminum pitch and mod wheels and a pressure-sensitive X/Y pad provide a fully assignable means of emotive expression and continuously variable control.
More Button
Nearly every module is equipped with a triangular "More" button in the upper right corner. When "More" is pressed, the Moog One LCD screen reveals additional parameters specific to that module, accessing deep-level features and advanced controls.
Presets And Performance Sets
A Moog One preset is a self contained creative environment, saving the parameter settings for all 3 layers of timbrality, along with all of their respective sequencer, arpeggiator, and modulation settings. Moog One has the ability to store and recall tens of thousands of presets that can easily be categorized, edited, notated, and even shared via USB drive. Up to 64 Presets can also be loaded to Moog One's 'Performance Set' module, where they are instantly selectable via a front panel "Bank / Preset" button configuration—a must for live performance and sessions.
User Spaces
Preserving more than just presets, the User Space saves all of the global behaviors, MIDI settings, port and pedal configurations, knob behaviors and even the LED brightness of your working environment, which is critical for studios and working musicians. Multiple User Spaces can be created, saved, and recalled – either from internal memory, or from an external USB drive, allowing you to instantly transfer your creative work spaces from one instrument to another.
Snapshots
When exploring a sound, pressing the Snapshot Button allows Moog One to easily capture and recall a time-stamped picture of a preset at its current settings, removing the need to continually save data manually while experimenting with new ideas.
Analogue And Digital Connectivity
Moog One's rear panel is populated with 2 assignable pairs of stereo audio outputs, 4 assignable inserts, and 2 external audio inputs with support for XLR and ¼" input. MIDI communication comes through 5-pin DIN and USB connection, which also offers system backup and restore via USB drive. 9 configurable CV inputs and outputs (with expression and sustain pedal inputs) are also included.
Configuration
Moog One is available in 8 or 16-voice configurations only. Upgrades from 8 to 16 voice units are not available at the present time
Specifications
Synthesizer Type
Polyphonic, Tri-timbral Analog Synthesizer
Sound Engine
Analog (Digital Effects can be bypassed to maintain analog signal path)
Polyphony
Keybed
61 Full-size keys with Velocity and Aftertouch (Fatar TP-8S)
Controllers
Pitch Wheel, Modulation Wheel, X/Y Pad (with pressure-sensing and hold), Sustain Pedal input, EXP 1 pedal input, EXP 2 pedal input – all pedal functions are assignable
Panel Controls
73 knobs and 144 buttons; LCD screen
Oscillators (x3)
Selectable Sawtooth wave with variable reset time or Triangle wave with variable rise and fall times, variable-width Pulse wave, Octave (32', 16', 8', 4', 2'), Frequency (+/- 7 semitones), Beat Frequency (+/- 7Hz), Wave Angle (Triangle and Saw), Pulse Width, Mix (blends the selected Triangle or Saw wave with the Pulse wave), FM routing and amount, and Hard Sync
Ring Modulator
Selectable routing (1-2 or 2-3)
Dual Source Noise Generator
Selectable sources (Red+White, Red+Purple, and White+Purple) with Color Mix and dedicated ARS envelope
Mixer
Independent levels and filter routing for OSC 1, OSC 2, OSC 3, RING MOD, NOISE, and EXT in.
Filters
State-Variable Filter; Ladder Filter (Mixable, Parallel or Series operation)
State Variable
Two 12dB per octave filters operating as one filter, configurable in NOTCH, BP, LP, and HP – with 12dB or 24dB slopes; Cutoff, Resonance, etc.
Ladder Filter
Moog Ladder Filter with HP or LP options, and selectable filter slopes (6db, 12db, 18dB, or 24dB); Cutoff, Resonance, etc.
Envelopes (x3)
Delay, Attack, Hold, Decay, Sustain, and Release; variable curves per stage, plus multi-triggering, looping, latching, and sync
LFOS (x4)
Dual-waveform categories with variable shapes (Triangle to Sine, variable-width Pulse, Saw to Ramp, S&H to Noise), assignable and variable transitions; fade-in/fade-out times, repeat count, phase start, etc.
Glide
Selectable glide type (LCR, LCT, EXP), gated glide, legato glide, glissando
Arpeggiator
Per SYNTH with octave range, pattern, direction, pendulum features, gate time, sync, etc.
Sequencer
64-Step per-SYNTH sequencer with step-editing and modulation capabilities
Synth Effects
Dedicated in-line effect for SYNTH 1, SYNTH 2, and SYNTH 3 (When disengaged, the signal path is 100% analog)
Master Effects
Dual mono sends with stereo return, or single stereo send with stereo return. (Accessible by all three SYNTHS - Eventide® Reverbs are available on the Master Bus only)
Browser
Stores tens of thousands of PRESETS and TIMBRES with definable Categories, Tags and Labels to aid search results. TIMBRES can be loaded to and played by any SYNTH
Performance Sets
Create, save, and manage up to 128 Performance Sets offering single-button access to up to 64 PRESETS
Settings
Access to pages for managing Libraries, Tuning features, plus Utilities such as updates, configuring ins and outs, etc.
MOD Matrix
Provides the ability to map modulation sources to destinations at will, using either controllers or addressable transforms to articulate the modulation signal
Voice Allocation
Mono or Poly voice count per SYNTH, unison/mono detune (48 oscillator max.), Chord Memory, plus voice stealing/sharing options
Snapshot, Compare
Built-in tools for saving and comparing during programming
VCA Section
VCA level per SYNTH, Pan per SYNTH
Output Section
Master Volume and Headphones volume controls
Audio Outputs
Main L, Main R (1/4" TRS; TS compatible)
Sub Outputs
Sub 1, Sub 2 (1/4" TRS; TS compatible)
Audio Inserts
Insert 1, Insert 2, Insert 3, Insert 4 (1/4" TRS Send / Returns- Can be used as mono outs)
External Mic/Line Input
XLR + 1/4" TRS combo jack with trim knob
External Line Input
Headphones
2x Stereo 1/4" jacks (located on the front edge of the Left Hand Controller)
Control Voltage Inputs
CV IN 1, CV IN 2 (1/4" TS)
Control Voltage Outputs
CV OUT 1, CV OUT 2, CV OUT 3, CV OUT 4 (1/4" TS)
Pedal Inputs
Sustain, EXP 1, EXP 2, (1/4" TRS; configurable through the Modulation Matrix, or as CV Inputs.)