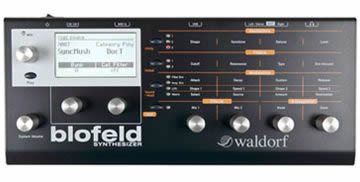 Deep in the subterranean Waldorf Laboratories, our scientists have finally discovered the finish that delivers the best sound. We almost had forgot about them when they resurfaced and proudly presented the result of their almost endless struggle to find the ideal material: Neither Mauve nor Lavender nor Ochre result in optimal sound, but a special electron absorbing coating in deep black.
The explanation is simple: more absorbed electrons reach the inner digital and analog workings of Blofeld and cause each bit to be stronger pronounced, resulting in a very defined and detailed sound. This makes our new Black Blofeld sound even better than before.
The new black Blofeld is produced 100% in German Schwarzarbeit and is available only on the black market.
This synthesizer offers all the unique qualities that made Waldorf a truly legendary brand.
The engine inside the heavy duty, full metal chassis of the Blofeld delivers the same fat and rich sound that so many Waldorf users worldwide love when they play their Pulse, Q, Q+, Micro Q, Microwave, Microwave II/XT, or even the flagship Wave.
Yes, you've heard it right. The Blofeld is not only capable of producing these warm, organic analog sounds known from the Q synthesizer line, it also sports a wavetable engine like its predecessors with "Wave" in their names.
This unique synthesis system is based upon the revolutionary PPG Wave synthesizers of the early 80s. So when you listen to the Blofeld for the first time, you will instantly recognize those edgy, hard-hitting and bell-like timbres that have been an integral part of so many world hits from the PPG era on, and become increasingly popular once more.
In fact it is amazing to realize that nowadays this complex technology fits into such a slim and elegant device. And for a price no-one would have imagined a couple of years ago.
Most important features
Unbeatable price tag
sturdy Metal Enclosure
7 endless stainless steel Dials
Graphic Display 128 x 64 pixels, b/w, white background LED
more than 1000 Sounds
3 Oscillators per voice
Frequency Modulation between the Oscillators
All Q Oscillator Models
All Microwave II/XT/XTk Wavetables
2 independent Multi Mode Filters per voice
Filter FM
2 Drive stages per voice with selectable Drive Curves
3 fast LFOs per voice
4 fast Envelopes per voice
powerful Arpeggiator
freely programmable Arpeggiator Pattern with up to 16 Steps per Sound
General Features
up to 25 Voices
16 part multi timbral
more than 1000 Sounds
sturdy Metal Enclosure
7 endless stainless steel Dials
5 Buttons
Graphic Display 128 x 64 pixels, b/w, white background LED
MIDI LED
Volume Control
Power Switch
Stereo Output
Headphone Output
MIDI In
USB Connector for MIDI In / Out
uses standard USB MIDI Driver provided by host computer OS
External Power Supply
System specifications
Windows ME minimum, Windows XP or newer recommended
Mac OS X 10.2 minimum, Mac OS X 10.3 or newer recommended