Sole South African distributors for Miditech, ART, Moog, Waldorf, Access Virus, Dave Smith Instruments, Arturia, Tech 21, Fatar, Sontronics, Studiologic, Emes, AAS, Radikal, Sherman, Seydel, Garritan and many more.
We are your African connection to a wide range of sound sculpture and music creation tools, with 30 years experience in the electronic music and equipment field.
Prices are frequently subject to change due to the volatility of the rand's exchange rate.
Please contact us for the latest prices.
All prices on this site include VAT
Special Offers!
Studiologic Plus
88, 76, 61 key piano weighted master keyboards
VMK-188+ - R 6,697
VMK-176+ - R 6,497
VMK-161+ - R 6,247

Akai EWI USB and Arturia Brass 2
Arturia brass software bundled with the Akai EWI breath controller
R 2,377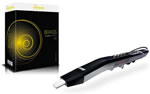 New and Featured